"Management is about doing things right and leadership is about doing the right things" according to Peter Drucker, the man who is widely regarded as the grandfather of all modern business management ideas. If you want to go back further than the 1930s you'll find that a lot of business management logic has been derived from military systems. In traditional businesses the discipline, the people management and the structures have largely been borrowed from the army. Why? Because it's been proven that it works!
A mini renaissance began in the 1970s and, by the 1990s, the emergence of "the flexible firm" demonstrated that Drucker's approach to business management is not the only one that works. Nonetheless, you're not going to be able to implement "the flexible firm" until you've reached a certain critical mass, and it could be argued that you'd need between 100 and 200 employees before venturing beyond the proven traditional structure. Even at the 100 level it is often the case that businesses are just becoming settled with things like a dedicated HR manager or IT manager.
The keys to moving forward and moving upward are to recognise that a fully functioning business has multiple facets and to plan accordingly. That means that you need to build a plan to expand in a proportionate way, and to have clear objectives in mind.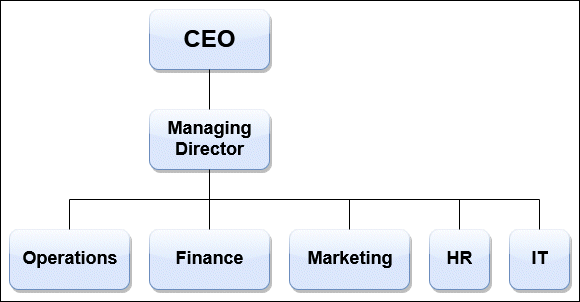 Traditional businesses have three divisions . . . Operations, Finance and Marketing. Drucker's classic business model also includes the CEO (a visionary) and the Managing Director (a strategist). Then in the 1970s some business gurus came up with the idea of a fourth division which they called Soft Systems, and which we now call HR.
More recently Soft Systems has morphed into two divisions, HR and IT, and we now have seven divisions in total.
Even though CEO and MD are not really divisions in the true sense, they do command special attention when it comes to organisational structure. And where is the detail about your organisational structure? In your Operations Manual.
The Operations Manual is divided into these seven divisions and it sets out what they do and how they do it. As explained elsewhere in this blog, the biggest reason that people don't do things is that they don't know how. Having an Operations Manual is the most important thing you can do in order to ensure that none of your staff have the "don't know how" problem.
Even a sole trader benefits from having an Operations Manual.
By setting out what is done, and how it is done, a business of any size can ensure that there is consistency in its operations. All customers receive the same level of service. All customers receive a product which is equally as good as that of any other customer. Credit control procedures follow the same pattern and favouritism and neglect are reduced. Most importantly the business owner, by following the Operations Manual, sets aside some time to focus on the strategic management of the business.
Occasionally, you need to get on the bridge and command the ship. If you spend all your time in the boiler room stoking the boiler you may end up discovering that your ship is operating at full steam ahead . . . in the wrong direction. You can't afford to spend 99% of your time on production. Get on the bridge sometimes, work on the plan, because management is about doing things right and leadership is about doing the right things.
Do you have an Operations Manual? Does it work for you? Does it put you "in the zone"?