Today's Sunday Times has a perfect example of "asking the wrong question". The headline on the home page says . . .
"Firms beg Sunak: what's the growth plan, PM?"
. . . and clicking through to the article gives you that exact same title. That's not always the case with The Sunday Times, the article's title can often differ from the headline on the home page.
Anyway, exactly who asked exactly what question?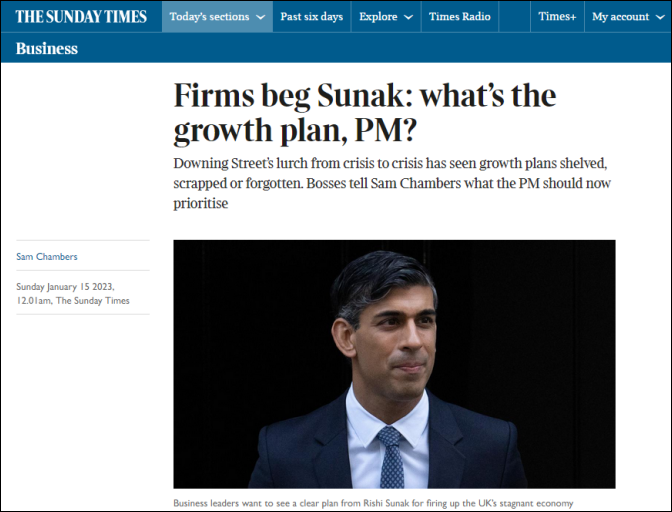 On closer inspection, business leaders are not actually asking about a plan. They already have a plan! Their plan includes "lobbying government for favourable treatment". It's the journalist that is playing the "click bait" game, providing a misleading heading, and spinning the facts to suit their own agenda.
Journalists like Sam Chambers are paid to incite clicks, which leads to you and me seeing adverts, which leads to advertisers placing business with news organisations, which leads to news organisations making money from advertisers. As a result, Sam Chambers gets paid, and theoretically, the news organisations make profits. There's a whole separate debate about using "click bait" and another about the merits of placing adverts behind paywalls!
Disingenuously, Sam has started the article with a 15 month old story about Bill Gates (who has not asked Rishi Sunak "what's the growth plan"). That story has a tenuous relationship to the thrust of today's article. What the article says is that major blue chip companies are lobbying government for favourable treatment via legislation on tax and on immigration.
By and far the largest tool at the disposal of government is legislation. No matter what the agenda of the party in power, their only hope of implementing anything is to adjust legislation to incentivise (or to compel) individuals and businesses to behave in a certain way. Everything else is just window dressing.
Sam states that "start-ups are also being harmed by the legislative logjam" and cites the example of driverless trucks. The reason driverless cars (and trucks) are going nowhere is that they are dangerous. They still cannot handle weather patterns trickier than "partly cloudy". There's a thought provoking article about this on Bloomberg.
If the objective is to move goods, then moving goods in bulk using road trains consisting of a series of linked driverless trucks is a pretty inefficient and costly way to do what freight trains have been able to do since the early 1800s. More tellingly, the big tech firms like Waymo (Google) and Titan (Apple) have scaled back their self driving car ambitions. Anthony Levandowski, who pioneered the driverless car industry is now one of it's most ardent detractors.
Change the statement "start-ups are also being harmed by the legislative logjam" to "entity A is being harmed by the absence of entity B" and you see how ridiculous that is. It's like saying "population harmed by lack of Covid cure" when the more accurate statement is "population harmed by Coronavirus".
Start-ups are not being harmed by anything other than their own conduct, and often that's their own blinkered view of whatever product they want to foist onto an unsuspecting public. If their product fails to spark joy then they deserve to fail, and that's typically what happens to about 95% of start-ups.
Sam's article is little more than an exercise in bemoaning the ineffectiveness of the UK government. That's not news! We all know that! What I wanted to know is which firms asked Sunak what questions?
"Urging" is not the same thing as "asking".
Anyway, where is the growth plan? It's a part of your business plan, a very large part, and you don't need to ask the government about it (because they are incompetent), you need to read your own business plan and then you need to implement it. And if your business does not have a business plan then you need to ask yourself whether you should be trying to run a business in the first place.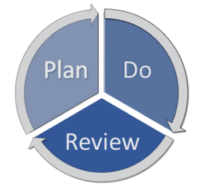 It all comes back to Peter Drucker's advice "plan, do, review" and his quote "implementation is everything". Here are a couple of questions to help your business succeed:
1. If there's one thing you should be doing, but you're not doing, what is that one thing?
2. What's stopping you?
By addressing "what's stopping you" you might decide to engage lobbyists to bring about changes to government legislation. And as part of that lobbying agenda, you might also slip a few quid to The Sunday Times to publicise your campaign. That's all a part of a BigCo business plan. It's most likely that The Sunday Times' business plan has a part which says solicit income from lobbying groups!
If you're not in that league, then instead, you might decide to engage a business coach to help you with writing and implementing your own business plan.
Do not ask the wrong question "Mr Sunak, what's the growth plan?"
You should ask yourself "what does my business plan say about growth?"
A business plan is the single thing that will make the biggest difference to your chances of success.