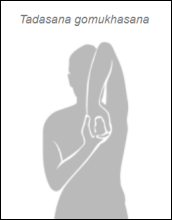 I have a log of my running. A lot of 10K races, a few half marathons, two marathons and hundreds of training runs, across five countries. Even when I'm on holiday! As a runner, I do a bunch of stretching exercises before I run. One of them involves arm and shoulder muscles, reaching as high as I can and then trying to get my hands to meet behind my back (variously known as cow pose or Gomukhasana).
Naturally, over the years, I have had the occasional injury, particularly muscle strain. And oddly, one of my 5km training runs into Battersea Park and back, led to a weird pain in my left shoulder. I put it down to excessive enthusiasm in that morning's "stretch" routine and I resolved to take a little more care with my pre run stretches.
It didn't get better. At work each day, I would find that by mid afternoon my left shoulder was aching. It got worse. I couldn't sleep well, rolling to my left caused such pain that it would wake me up. I saw my GP, explained, and he said relent on that stretch exercise and rest the muscles completely for 7 to 14 days.
It got worse, I kept waking up in the night, now groaning with pain. My wife wasn't happy. I learnt to take my pillow to the dining table, sit upright, head on pillow, pillow on table, and that way I could sleep. We bought a new mattress. It made no difference. I went to the GP again. It made no difference. I was give a prescription for a muscle relaxant which eases the pain and has the side effect of constipation. Diclofenac made no difference to the pain level, but I can tell you that it does cause constipation.
Some days at work, I would give up at about 3pm and go home, because I could not endure the pain.
After about one month of this, something worse happened. The pain moved around. Variously, I identified 7 pain points in my left shoulder, upper arm, and shoulder blade at the back. Then it moved, to the front, towards my left nipple, and then towards my heart. A thrombosis I thought! I later learnt that a blood clot that moves about is called an embolism, not a thrombosis. Aged 50 something I went straight to A&E. The triage nurse got me in almost immediately and I was hooked up to an ECG to investigate. There was no embolism, there was no risk of an impending heart attack! The Doctor explained that I was one of the healthiest 50 somethings he had ever seen, my heart and circulatory system was in top condition, and I was sent back to the GP to discuss soft tissue injury (again).
A third visit to the GP achieved no more than the first two. I was still clocking off work mid afternoon. I was still sleeping sitting up, head bent forward, with a pillow on the dining table. And I was regularly trawling everything I could find on the web.
My pain "did not move around", it just felt that way. I had 7 pain points, and the one that ached the most masked the sensation from the others, tricking my brain into thinking that there was movement.
I found the problem, and in my excitement and hurry I failed to note the exact URL of the Indian doctor, with a clinic in India, who explained that I had RSI, and explained what I should do about it! It had taken me about 6 weeks to self diagnose my RSI.
RSI was a wrist condition I thought, mainly brought about by relentless typing. It affected me (and according to the Indian blog, others as well) in the upper left arm and shoulder. Hence the Indian doctor who had seen this a number of times had written a really informative blogpost. The whole problem was nothing to do with running, nor stretching, and it had  everything to do with my desk at work. I needed a low keyboard tray and I needed to learn to touch type. An upright seating arrangement should also mean a raised monitor so that (a) my back is straight, and (b) the top of the monitor is level with my eyes.
I run my own business, I'm the boss, it's my desk and I can do what the hell I like with it. Saturday, within 10 minutes of that self diagnosis, I was on a Tube train to work. I took a saw to my desk, cut a big gap in the surface, found some gash wood, and mocked up a sloping keyboard tray like the one the Indian web site had recommended.
This photo from 2012 shows that instant remedy brutally inflicted on my cheap Ikea desk. The keyboard tray slopes away from me, and mimics the natural angle of my legs, resting just a couple of centimetres above them. This is the place where your hands would naturally lie if we hadn't adopted traditional flat topped desks. And I learned to touch type.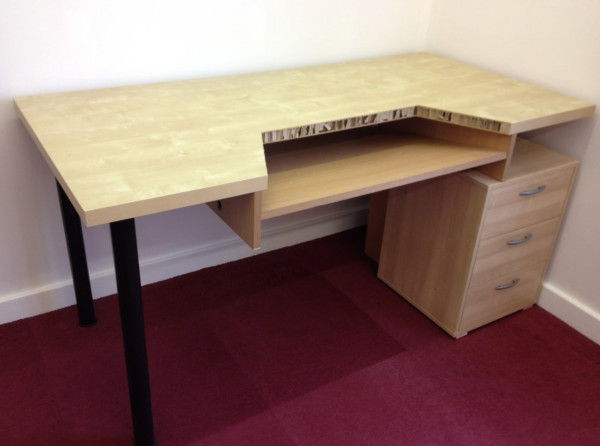 Into the bargain, I had a new mattress, I had learned how to sleep at a dining table, and I had the knowledge that my heart was in perfect health! Incidentally, I also bought an ergonomic kneeling chair although I gave up with that after a few weeks. In place of the old cheap Viking leatherette executive chair at about £45 (bought years and years earlier) I now have a newer decent quality mesh executive chair that cost about £250.
Within a week of cutting the desk, the RSI abated, the sleeping improved, and by week 3 I was back to normal. I can touch type, it's a bit ropey, but it is authentic.
Thank you Dr Indian Fella! I wish I had that URL, and in spite of trying, I have not been able to find it since. My GP does not know this. I have not been in the surgery since 2012, there has been no need, and I am now a very fit and healthy 60 something.
However, I have subsequently learnt from more than one source that the NHS is good at illness, disease, and bone injuries, but it's not good with soft tissue injury. I tell you this in the hope that others with RSI like mine can now self diagnose too!